Larry Joe, who found his music behind bars, now inspires others
Larry Joe voluntarily turned himself in to police in South Africa, then found music in prison. He's turned his life around and now preaches against drugs and gangs.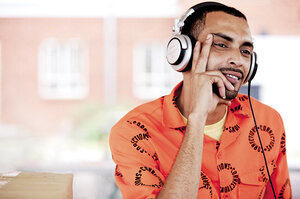 Courtesy of Jonx Pillemer/Douglas Correctional CentER/QCT Music
Some people get a second chance, a pause in life to turn off the bad influences and walk in a better direction. Larry Joe's second chance came one warm February morning in 2008 at the funeral of his grandfather.
Larry Joe had spent the last seven years of his life as a fugitive, a drug addict, and a gang member in the Cape Flats, a rough-and-tumble part of Cape Town, South Africa. He knew that police would be watching for him at his grandfather's funeral in his hometown of Douglas in Northern Cape Province.
The knowledge that he shouldn't attend his grandfather's last rites ate away at his conscience.
"It made me not comfortable, being a fugitive," recalls Larry Joe, sipping a rooibos tea at a cafe in Cape Town one recent morning. He attended the funeral and wasn't arrested, but he'd had enough. He went to a lawyer. He turned himself in to the police.
As he took responsibility for a burglary he'd committed years before, he found himself taking control of his life.
"I realized, if I'm not going to do this now, I'm not going to have a better life," he says.
On Feb. 11, 2008, he was sentenced to 5-1/2 years in prison.
He distanced himself from prison gangs and even requested solitary confinement to help him think – and later, to start writing songs. He had a lot to write about. His 18-month-old daughter, who had long been ill, died while he was on trial. His father died a few months later.
Maybe it was to reconnect with his late father that Larry Joe (that is his full and only name) started to turn to music. Or maybe it was to reconnect with himself.
"My father taught me to play guitar and to sing," he says in a recent interview. "It was a very good way to deal with the pain and the struggle I was facing inside myself. It was an advantage. In prison, I had all the time in the world to make music."
---