Marisol Lizelle Salvador lost her brother, but found a life – helping kids in the Philippines
Her brother's death inspired a foundation that supports an orphanage in the Philippines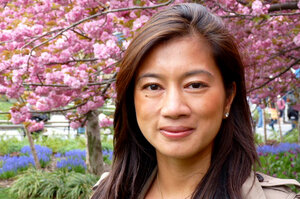 Marilyn Jones
After graduating from George­town University with a degree in international business, Marisol Lizelle Salvador "wanted it all."
So she parlayed her degree into a great job with a world-class Wall Street firm, made big bucks, and lived the life of a young mover and shaker on the fast track to a top career in the financial world.
Yet, after actually achieving the success she'd envisioned, she realized that "having it all" felt more like "not having enough."
A first-generation Filipino-American, Ms. Salvador grew up in an upper-middle class home on Long Island, N.Y. Her father, a doctor, and her mother, a nurse, had immigrated to the United States in the 1960s, where they raised their five children to seek the American dream.
At the age of 11, however, Salvador took a trip with her parents to the Philippines. There she understood for the first time the huge disparity between her life and that of the children she saw begging on the streets of Manila. Those images would profoundly affect her for years to come.
Her family lived what seemed a charmed life in the US, but their happiness turned to sorrow when Salvador's eldest brother, John David Vincent, was killed at age 14 by a drunken driver.
Salvador felt her brother's loss deeply, but it wasn't until years later that she found a way to honor his memory. As she found herself on her rise to success, she began to wonder, in effect, "Is that all there is?"
She contrasted the amazing abundance in her life with the plight of those desperate children in the Philippines without food, shelter, or even parents to care for them.
---