Karin Alfredsson travels the world to help stop violence against women
Author and journalist Karin Alfredsson founded 'Cause of Death: Woman' to investigate the worldwide epidemic of violent acts against women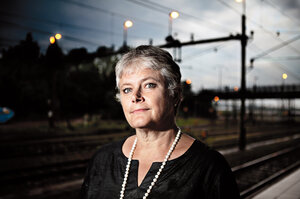 Linda Forsell
Violence against women worldwide causes more deaths and injuries than traffic accidents, cancer, and malaria combined.
Yet not enough is being done to stop it, says Swedish journalist and author Karin Alfredsson, who has launched an unprecedented global initiative aimed at focusing attention on a worldwide epidemic of violence against women.
"It's everywhere," Ms. Alfredsson says.
The project, called Cause of Death: Woman, is taking her or members of her team to 10 countries – Pakistan, Mexico, the United States, Egypt, South Africa, Spain, Brazil, Russia, Sweden, and the Democratic Republic of Congo – to document what they call the "violent reality" for women and to highlight ways to end it.
---