Osama Abu Ayyash tells his story to Israelis who've never met a Palestinian
Osama Abu Ayyash visits Israeli classrooms, telling his story of loss and forbearance to humanize Palestinians to Israelis who may have never met one.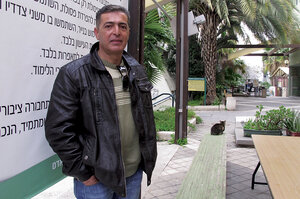 Joshua Mitnick
Osama Abu Ayyash greets the classroom of Israeli teaching students in Arabic and then switches to Hebrew: "I am a Palestinian from the territories," he explains.
Mr. Abu Ayyash, who has made dozens of lecture trips to Israeli schools from his home in the West Bank village of Beit Ummar, knows well by now that Israelis view him, the brother-in-law of two fugitives killed during the recent Palestinian uprising, as the enemy. He also knows his own Palestinian countrymen may consider him a collaborator for speaking in Israel.
But that has not stopped Abu Ayyash from telling his story about how his wife's brothers went from being gainfully employed to being in the cross hairs of the Israeli security forces as accused terrorists. More important, it's also a story about how Abu Ayyash and his wife, Sara, overcame their grief and became activists in a group of bereaved relatives promoting reconciliation between Israelis and Palestinians.
RELATED: Who is Hamas? 5 questions about the Palestinian militant group.
"I believe in the personal story: Bereavement helps open the doors to talk about the situation," Abu Ayyash says.
In the nine years since his brothers-in-law were killed in Nablus, the psychology major-turned-truck driver has visited numerous Israeli high schools, and has even faced chants of "Death to Arabs."
His goal, he says, is to humanize the conflict for audiences in which many may never have come in contact with a Palestinian before. "If they start thinking how to put themselves into the shoes of the other, things will change," he says.
---