An engineering mom leads effort to save an old-growth Russian forest
Yevgenia Chirikova found out a national forest was quietly being sold off. What she did to try to save it may change Russia forever.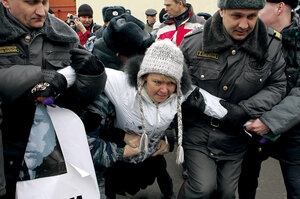 Konstantin Koutsyllo/Reuters
If all politics is local, Yevgenia Chirikova may have begun something that could change the course of Russian history.
Just five years ago, the winner of this year's prestigious Goldman Environmental Prize (one of six awarded on April 16) was a small-business woman and homemaker in the Moscow suburb of Khimki who, by her own account, had never considered engaging in civic action of any sort.
But discovery of what she calls an ecological crime led her and a small band of supporters to confront Russian authorities, whom she accused of being corrupt and unaccountable, in what is an ongoing effort to force reconsideration of a highway that would destroy the irreplaceable old-growth Khimki Forest, near her home.
RELATED: Defying Putin: 7 Russians to watch
Over the subsequent years of struggle, Ms. Chirikova has built one of Russia's first grass-roots environmental movements, endured numerous arrests, suffered through the vicious beatings of several friends, and earned a hard education that has vaulted her to the center stage of national politics.
"One of the greatest results of Yevgenia's battle to save the Khimki Forest is that we now have an example of a strong local group fighting effectively for environmental rights," says Sergei Tsiplenkov, executive director of Greenpeace-Russia, who has known Chirikova since she came to his office almost five years ago asking for advice.
"She did what most Russians are afraid to do; she took a stand, and she didn't give up – even under tremendous pressure," Mr. Tsiplenkov says. "A lot of people around the country have been inspired by her example, and similar groups are springing up in many places. Her fight was a real impetus for the building of something we have not had in Russia, a real civil society."
---