From the good life to digging up land mines in Cambodia
While living in Palm Springs, Calif., with retirement looming, Bill Morse chose to move to Cambodia to help activist Aki Ra rid the country of land mines that kill and maim.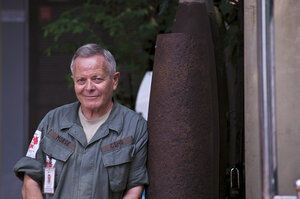 Nicky Sullivan
"We think there are about 5 million land mines in the ground in Cambodia, but we've no idea where they are," says Bill Morse. "Part of the problem is they were laid by 11-year-olds."
He's explaining the lingering legacy of 30 years of conflict in Cambodia to a small group of tourists at the Landmine Museum, a few miles from the crowds drawn by the 1,000-year-old Angkor temples in the northwest of this Southeast Asian nation. The neat little museum is packed with land mines, rockets, and munitions all carefully pulled from the ground by a determined Cambodian man named Aki Ra. In the wet tropical heat, the group listens intently, hooked by Mr. Morse's friendly manner and his story.
"Cambodians are being blown up by the ground they live on, and have the highest ratio of land mine victims in the world, though we've gone from a situation where thousands were being killed or injured every year to 158, so it's definitely getting better," Morse says. "Most of them were laid after the fall of the Khmer Rouge, and we're constantly trying to dig them up."
The Khmer Rouge was a radical communist regime that oversaw the deaths of some 1.7 million people – roughly one-quarter of the population – when it ruled Cambodia in the late 1970s. Vietnam invaded in January 1979, liberating Cambodia and driving the communists to the northwest. From there, the communists conducted an insurgency against the Vietnamese occupiers, and later the Cambodian government, until 1998.
During those years of horrific conflict, every side laid land mines.
---