Chepe Ubaque survived Colombia's mean streets. Now he helps others do the same.
Hip-hop, graffiti, break dancing, and journalism programs give teens in Colombia a safe way to express themselves – and avoid violence.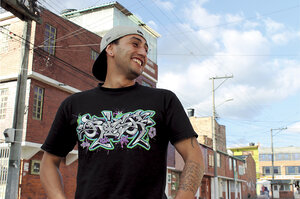 Amy Lieberman
Colombia's armed conflict forced Jose "Chepe" Ubaque and his family to flee the countryside and settle in Soacha, a city southwest of Bogotá, when he was just 11. It is known as a magnet for both internally displaced Colombians (nearly 4 million) and armed groups.
Mr. Ubaque was able to beat the odds that the tough streets of Soacha stacked against him and landed scholarships to universities first in Bogotá and then in Canada. But he has gone on to do something even more remarkable: He has returned to Soacha. "When people can, they just leave Soacha," Ubaque says. But if the people of Soacha don't help themselves, no one will, he says.
What young people in Soacha need is their own voice, Ubaque says. Hip-hop, graffiti, break dancing, and journalism can all help by giving at-risk preteens and teenagers a safe way to express themselves, while also helping them avoid violence, he says.
"We have all of these things here – guerrillas, paramilitaries, the military," he says. "People tend to recognize violence and the problem, but not the possible solutions."
Since 2005, Ubaque's nonprofit organization, Fundacion Cultural Hip Hop La Diáspora, has been offering free, several-month-long workshops here involving 30 to 150 young people at a time. The group's sparse funding dried up months ago, but Ubaque continues to spend nearly every day in Soacha, a dusty, low-lying city of about 450,000 flanked by shantytowns that speckle the base of the green Andes Mountains.
Workshop participants keep coming. Some show up at the organization's inconspicuous office – a white house with bars on the windows – almost daily, even when there aren't any workshops scheduled.
---