Volleyball for all on a famous Rio beach
Roberto Bosch's volleyball school was getting nowhere. Then he invited kids from the slums to join for free.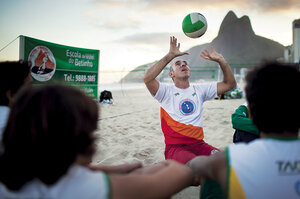 Jimmy Chalk
Roberto "Betinho" Bosch had his glory moments early in life.
The gangly athlete joined his first volleyball club at age 12; before he was old enough to drive, he was already under contract and being paid for playing the sport. In college, Betinho, as he is known here, dropped out of his classes in economics to travel with a professional team. When he competed in the youth world championships in Italy at age 20, he was considered the best player on earth.
But health concerns made him leave pro volleyball just as his peers were graduating from college. Soon he found he was struggling to find a new direction for his life.
"I was lost for a long time," Betinho says, aimless for some seven years after leaving professional athletics. "I didn't understand anything. [Playing volleyball] was just a part of my life that was being ripped out. I wasn't ready."
Betinho had ridden what he calls a "boom" of volleyball in Brazil. Although football (called soccer in the United States) was the prevailing national sport, volleyball had knocked out basketball as the second most popular. National volleyball idols emerged, and the sport was broadcast on major television channels.
After Betinho made an unenthusiastic attempt to return to college, his wife suggested he start his own volleyball school.
"Given that I was really depressed, really low at the time, I didn't think I was capable" of running a school, he says. Still, he set up a volleyball court on Rio de Janeiro's glamorous, celebrity-studded Leblon Beach.
"In the beginning, it was one old net, three old balls, and one student, which was my wife," he recalls.
Few other students showed up. Then Betinho had an idea – one that would finally bring vigor back to the life of the dispirited former pro athlete: Why not go to the public schools and offer volleyball lessons to students free of charge?
---