Danielle Gletow lends a helping hand to children in foster care
She started One Simple Wish in her home to help people grant 'wishes' to kids in foster care.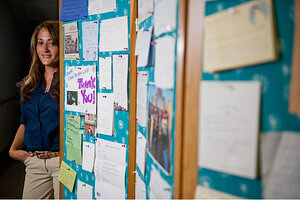 Ann Hermes/The Christian Science Monitor
When Danielle Gletow adopted her daughter Mia, she began to learn about the American foster care system – and the challenges faced by more than 100,000 children and young adults who are part of it.
Determined to do something to help them, Ms. Gletow made it her mission not only to educate others about the challenges these children and teens face, but also to give people an easy way to lend a helping hand.
That's how One Simple Wish was born.
Founded in 2008 out of Gletow's home office, One Simple Wish is a nonprofit organization that connects foster children and vulnerable families with potential donors who grant their wishes online or at the organization's Ewing, N.J.-based "Wish Shop."
The wishes, which typically cost from $5 to $100 to grant, encompass everything from a desire for a musical instrument to a movie ticket, new clothes, or horseback riding lessons.
The goal, Gletow says, is to fulfill the dreams, big or small, of deserving children and families while bringing attention to the struggles they face.
To date, Gletow has seen more than 2,800 wishes granted by her organization. And while each is special, Gletow enjoys remembering some of the first wishes that she herself helped to grant.
For example, when a child in a low-income family wanted to take scuba-diving lessons with his older brother, she made calls to local schools until she found one willing to cover the cost of the class.
And when Sarah, a girl who had grown up in foster care, was graduating from basic training in the US Army, Gletow was able to help arrange for her caseworker to fly to South Carolina to share the proud moment that Sarah had worked so hard to reach.
Sarah was the only student who didn't have family coming to the graduation, Gletow says. "She had no way to pay for [her caseworker] to come."
---