Lynn Zwerling's knitting group for male prisoners opens up their world
A retired salesperson saw how the act of knitting, and a supportive environment, could calm inmates and even help them give back to society.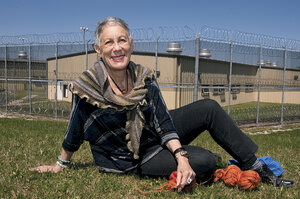 Joanne Ciccarello/Staff
The first warden Lynn Zwerling approached with her idea recoiled as if she might bite. The second wouldn't meet with her. The third claimed to love the idea, then fell out of touch. Outrageous, said the fourth.
The fifth, Margaret Chippendale, at a minimum-security men's prison outside Baltimore, didn't have much hope for Ms. Zwerling's plan either.
"She brought the program to me and told me: 'Your inmates will get hooked. It will relax them, empower them,' " remembers Ms. Chippendale, a 40-year veteran of Maryland's Department of Public Safety and Correctional Services. "And my gut reaction is: 'Lynn, I'm always looking for ways to do that, but I'm not sure I'm going to get a bunch of big, macho guys to sit around a table and knit.' "
On a recent Thursday night, 13 inmate members of the Knitting Behind Bars program at Jessup Pre-Release Unit (JPRU) in Jessup, Md., gather at long tables in a white and gray cinder-block room. The men are a cross section of the prison population: old and young, black and white.
Tyrell Butler, a young inmate with a gold tooth and tattoos ringing both arms, is joining the group for the first time. He watches intently as Zwerling gives him a five-minute knitting lesson.
"So, between the pearls and the neck, that's the front door. In through the front door," she says, poking a needle through an opening in the row of gray stitches she has started for him. "Then skull and crossbones. Wrap it around...."
Mr. Butler has come hoping to make something for his 3-year-old daughter. He has been behind bars her whole life, and says he wants to make her a blanket so she'll have something from him to hold. Zwerling asks his release date. 2015, says Butler.
"Then you have time," she says matter-of-factly, pointing to the gap in his growing rectangle of yarn. "In through the front."
---