John Bergmann runs a special zoo for older, exploited, and abused animals
John Bergmann manages Popcorn Park, a special zoo in New Jersey that gives a home to distressed wildlife and exotic and domesticated animals.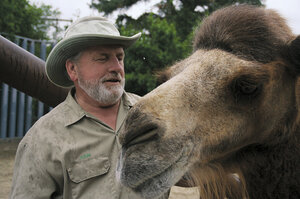 David Karas
"The chickens crawl all over the office, and they lay eggs on my desk," says John Bergmann, who chuckles as he lifts up the towels that cover the papers in his office – which is in a barn. "It's all part of the job, I guess."
Mr. Bergmann is general manager of Popcorn Park, a federally licensed zoo nestled in the Pinelands of southern New Jersey that caters to distressed wildlife and exotic and domesticated animals. Part of the statewide Associated Humane Societies, the zoo cares for thousands of animals each year, including those that are ill, injured, exploited, abused, or older.
"Animals find their way to us," he says. "This all happened by accident."
The zoo began in 1977 as a pet adoption center when staff started receiving calls about distressed wildlife, including a raccoon that had been injured when it got caught in a trap.
As new animals came in, more cages were built, and piece by piece the zoo was born.
Today, more than 200 animals call the zoo home – including African lions, tigers, mountain lions, a camel, emus, wallabies, monkeys, bears, and, of course, the peacocks that roam the property and greet the more than 75,000 annual visitors in the parking lot.
On a recent morning, Bergmann made his rounds to the different cages, greeting the animals individually and calling them by name.
The routine is a familiar one for the animal residents, who treat Bergmann like a rock star. Chickens hitch a ride on the back of his golf cart, and tigers twice his size rise to greet him and gain his attention.
"You are around [the animals] a lot," he says of his occupation. "I guess there is some realization [by them] that you have done something for them."
---