Ruben Garcia sought his mission in life. He found it helping the 'poorest of the poor'
Ruben Garcia founded Annunciation House in El Paso, Texas, which aids immigrants fleeing violence in Mexico and Central America.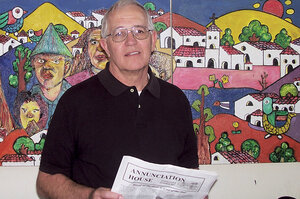 Courtesy of Annunciation House
It all started in 1976 when a Roman Catholic youth group of idealistic young adults began to meet in El Paso, Texas, looking for a "greater sense of purpose and mission and substance," says Ruben Garcia, who conducted the meetings. Sometimes 14 people came, sometimes just one.
"Along the way, as we reflected, something from the Scriptures kind of jumped out at us," Mr. Garcia says. "God – in the Old Testament, in the New Testament – identifies first and foremost with whom? With the poor.
"We [decided to] quit our jobs, quit going to school, to live simply and by the grace of God."
The group began walking the streets of El Paso, looking for the poorest of the poor, without any preconceived notions of what they would do. They helped some people by referring them to social service organizations. But some people said they couldn't be helped because they "didn't have any papers." These were undocumented Mexicans, who at that time weren't eligible for services. So the group decided to focus on helping them.
The Catholic Diocese of El Paso gave them the second floor of the current Annunciation House to use rent-free, if they could maintain it.
February 2013 will mark 35 years since the house was founded and Garcia started his lifework. Today, Annunciation House has several full-time and temporary volunteers, along with summer interns. It operates mostly on private donations, with no real fundraising program.
Over the years, it has provided help to about 125,000 poor immigrants. Guests have been given a place to sleep, a shower, a hot meal, and many other services.
---