Eric Schwarz and Citizen Schools give inner-city kids a leg up
Citizen Schools helps level the playing field for students who grow up in low-income households by extending and enriching the school day with hands-on projects and citizen mentors.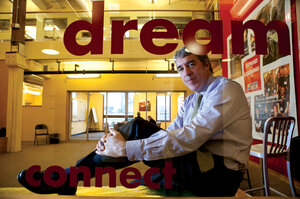 Melanie Stetson Freeman/Staff
It isn't rocket science – though giving kids an opportunity to build and launch their own model rockets is often part of the program.
Eric Schwarz is remaking public education in the United States using a simple formula: Extend the school day, give kids adult mentors, and let them get their hands dirty.
The program, called Citizen Schools, has succeeded so well that Mr. Schwarz has been invited to the White House to explain how it works and has been featured in the new book "Everyday Heroes: 50 Americans Changing the World One Nonprofit at a Time."
Now at work in 14 US inner-city school districts and on one Indian reservation, Citizen Schools is seen as a model for making dramatic improvements at low-performing schools. To do that it partners not only with AmeriCorps, the quasi-governmental service organization, but with some of the biggest names in US business, including Google, Hewlett-Packard, and Cisco Systems.
The idea is to level the playing field for students who grow up in low-income households.
"In this country we have a growing achievement gap based on family income. It's actually a bigger gap than it was 50 years ago," Schwarz says in an interview at the Citizen Schools headquarters in a renovated brick building on Boston's waterfront, just one pier away from the replica of the historical Boston Tea Party ship. "The reason is, I think, is not that poor kids are learning less, but that rich kids are learning more because their families are giving them all these opportunities to get violin lessons, go to robotics camp, get extra coaching and tutoring, and have lots of chances to be [around] successful adults.
---