Earth Day: Ioby (In Our Back Yard) brings climate change efforts down to the grass-roots
(Read article summary)
Earth Day: Ioby means the opposite of NIMBY (Not In My Back Yard). The work of combating climate change must begin in our homes and neighborhoods, says ioby co-founder Erin Barnes in an Earth Day interview.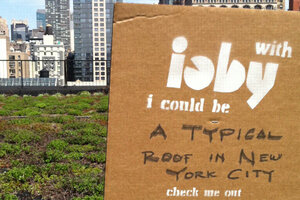 Courtesy of Dowser.org
Each year on Earth Day, there are programs and events encouraging awareness of global environmental concerns. But some widespread problems, like climate change, can seem so massive that it's difficult to know how individuals and grassroots groups can really make a difference, or where to start.
Ioby (In Our Back Yards) is a New York City-based organization that uses an online crowdfunding platform to support local, community-based environmental projects. By working at the neighborhood level, ioby hopes to emphasize the concrete ways that people can tackle global environmental problems at home.
Dowser: What is unique about ioby's mission as an environmental organization?
Erin Barnes, co-founder and executive director: It's part of the values that we have as an organization to work locally and be invested in the community. Ioby, the name, comes from the opposite of "nimby" (Not In My Backyard).
We started the organization because we felt like the environmental movement had long been concentrated on places where people don't live. We felt that the interaction between people or communities and the environment was meaningful.
Every project we support through our site has to meet our environmental criteria. They have to be doing something that benefits the community too.
Why use a crowdfunding model, rather than the standard nonprofit model of grants and donations?
A lot of people feel compelled to do something for the environment but they have limited options: replace this lightbulb, buy this bamboo cutting board, and so on. Pretty empty transactions. We wanted to harness this energy and redirect it toward projects that are creating impact and need support.
---