Mothers report card: US still lagging at home and as a donor
(Read article summary)
In a new ranking of the world's best and worst places to be a mother the United States rates 31st. And its precious aid dollars to poor countries are up for grabs.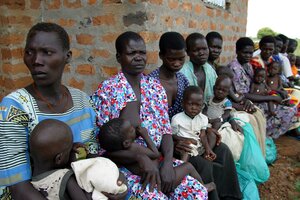 ZUMA Press/Newscom/file
With Mother's Day coming this weekend, the international aid group Save the Children today issued its 12th annual State of the World's Mothers report.
Norway ranks No. 1 as having the best overall conditions for mothers; Australia and Iceland rank No. 2 and 3. At the bottom, Afghanistan ranks No. 164 and last, though, as might be expected, sub-Saharan African countries holds down eight of the bottom 10 spots.
The United States? It comes in at a mediocre No. 31.
The rankings are based on factors such as mortality rates for mothers and their children, women's life expectancy, and women's levels of education. The US maternal mortality rate of 1 in 2,100 is among the highest of any developed nation.
Though conditions for mothers and children worldwide, including access to basic health care, clean water, and nutrition, have improved in recent years, some 22,000 children still perish each day, largely from preventable or treatable causes, the report says.
Meanwhile, the US spends only about 1/200th of its federal budget on programs to help alleviate poverty and on other humanitarian programs worldwide, it adds.
---