Giving Pledge: A big-hearted billionaires club, led by Bill Gates and Warren Buffett, keeps growing
(Read article summary)
The Giving Pledge, founded by Bill Gates and Warren Buffett, has signed up 69 billionaires who promise to give away most of their fortunes to charity.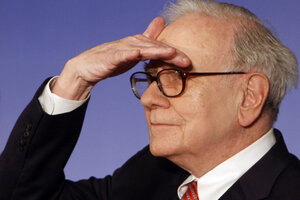 Mustafa Quraishi/AP/File
Make it 69 US billionaires who've pledged to give most of their fortunes away to charity most of personal fortunes.
Late last month 10 more billionaires – or people who would be billionaires if they hadn't already given a good part of their wealth away – made the Giving Pledge.
"The Giving Pledge is an effort to invite the wealthiest individuals and families in America to commit to giving the majority of their wealth to the philanthropic causes and charitable organizations of their choice either during their lifetime or after their death," explains a note on the website. The pledge is strictly a public statement of intent, not a legal contract. Though the members expect to stay in touch each billionaire works separately on his or her own charitable giving plan.
The group was founded last June by Warren Buffett and Bill Gates, the two richest Americans. It is only for billionaires, but the founders hope it will inspire widespread interest in charitable giving in "givers of all financial means and backgrounds," the statement continues. "We are inspired by the example set by millions of Americans who give generously (and often at great personal sacrifice) to make the world a better place."
---