New film will recall the lessons of Rwanda's genocide
(Read article summary)
A nonprofit's documentary film, "Raindrops Over Rwanda," premieres online July 18. Giving it a Facebook 'like' could result in $50,000 in charitable giving.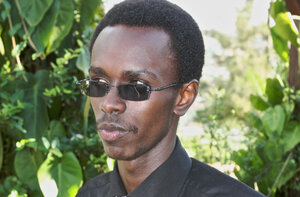 Courtesy of Explore.org
Rwanda is a beautiful country of lush, hillside forests, majestic mountains, and Lake Kivu, one of the African Great Lakes. It's picturesque terrain has earned it the name "Pays des Mille Collines," the "Country of a Thousand Hills."
But the small landlocked East African country, about the size of Maryland, has a troubled recent past. More than 1 million people there died in a genocidal war in 1994 that the outside world was unwilling or unable to stop.
[Editor's note: The original version of this post misstated the date of the genocide in Rwanda.]
To publicize a new short film on Rwanda, both its horrific history and its bright future, the nonprofit group Explore is asking individuals to "like" the film on Facebook. The documentary is called "Raindrops Over Rwanda" and a trailer can be viewed here.
For every "like," which acts as a promise to watch the film when it premieres online July 18, Explore will donate $1 to benefit Rwanda's Kigali Genocide Memorial Center, up to $50,000.
To "like" the Rwanda movie premiere, go to http://www.facebook.com/exploreRwanda.
The Christian Science Monitor expects to be one of many websites hosting the July 18th world premiere of "Raindrop Over Rwanda."
---