Peter Thiel gives $100,000 each for 24 youths to skip college
(Read article summary)
Silicon Valley investor Peter Thiel is giving $100,000 fellowships to two-dozen outstanding individuals under age 20, urging them to skip college and pursue their entrepreneurial dreams.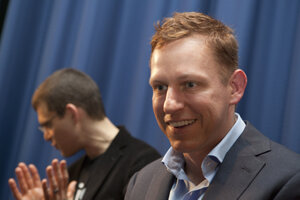 ZUMA Press/Newscom/File
For talented young people who want to change the world, is college a waste of time and money?
Silicon Valley entrepreneur Peter Thiel argues yes – at least for some people.
He's giving two-dozen young people under 20 years of age $100,000 fellowships to pursue their dreams over the next two years – and not wait to finish a college education first.
"The Fellows are a tremendous group of young people who are going to advance the frontiers of knowledge, shake up staid industries, and change the world," Mr. Thiel says on his foundation's website. "Tomorrow will not take care of itself. In order to solve vexing problems and increase the quality of life for people everywhere, the world's economy needs continuous scientific and technical innovation from outstanding creative minds. I'm looking forward to helping the Fellows become the next generation of tech visionaries."
"[W]e hope they will help young people everywhere realize that you don't need credentials to launch a company that disrupts the status quo," adds James O'Neill, the head of the Thiel Foundation.
---