Africa's Green Revolution may be a long time coming
(Read article summary)
Africa needs the kind of Green Revolution that caused a huge leap in agricultural productivity in many parts of the world in the 20th century. But efforts to change how farmers work may take decades.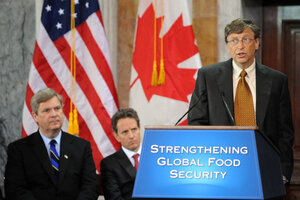 Tim Sloan/AFP/Getty Images/Newscom/File
It's tough to keep your eye on the long view when the prospect of famine is at the door. But that's what organizations such as the Bill & Melinda Gates Foundation, CARE, and the United Nation's World Food Programme are trying to do more and more.
The old adage seems to have truth in it: Give people a fish, they eat for a day. Teach them to fish, and they can feed themselves for a lifetime.
The Gates foundation is committed to spend $1.7 billion to alleviate the underlying conditions that create poverty and hunger in Africa, says an Associated Press story. But it may take two decades or more to bring its work to fruition.
"It takes years and years to shift the system," says Roy Steiner, deputy director of global development for the Gates foundation. "Giving food to people is certainly necessary when there's a crisis," he said. "But these people don't want to be depending on outside charity. And, frankly, who is going to pay for all of that food being given?"
---