Descendants team up to teach the positive lessons of the infamous 'Plessy v. Ferguson'
(Read article summary)
Descendants of the two parties in Plessy v. Ferguson, which established the notorious 'separate but equal' doctrine that legally justified segregation, have joined to create a foundation to advocate for better racial harmony.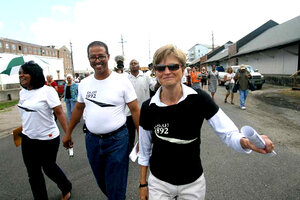 Courtesy of The Plessy and Ferguson Foundation
Long before Rosa Parks in 1955 refused to move to the back of the bus in Montgomery, Ala., to protest racial segregation, Homer Plessy had already been on a hot seat.
In 1892, Mr. Plessy, a shoemaker of mixed racial heritage, sat down in a "whites only" railroad car New Orleans defiantly expecting to be arrested as part of a planned protest.
He was. The resulting court case, Plessy v. Ferguson, eventually went to the US Supreme Court, which found against Plessy and for New Orleans Judge John Howard Ferguson, who had first ruled against Plessy. As a result the notorious concept of "separate but equal" treatment of African-Americans became set in US law until finally overturned in 1954's landmark case Brown v. the Board of Education of Topeka.
[Editor's note: The original version of this article misspelled the full name of Judge Ferguson.]
---