Citizen action: partnering with conventional news media
(Read article summary)
Citizen groups and citizen journalists are addressing social problems around the world. But they may still need traditional news organizations to help tell their stories.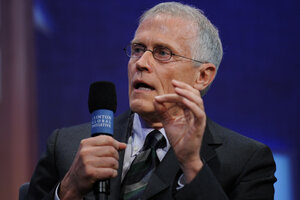 AFP Photo/Stan Honda/File
In his 2007 book Blessed Unrest, journalist/social entrepreneur/environmentalist Paul Hawken estimates that around 2 million citizen-led organizations – initiatives started by individuals to address social problems – are in existence worldwide. Their activity bubbles from the bottom up from all corners of the globe– meaning this movement is much more diverse and dispersed than any before.
Most of this citizen activity remains unseen. Unless you follow niche media or know a friend-of-a-friend-of-a-friend, chances are you haven't heard of people like Jorge Camil, who works to bring technology to slums of Mexico, or Simon and Jane Berry, who deliver medicine to rural villages in Africa by harnessing the distribution network of Coca-Cola, or Sean Carasso, who started Falling Whistles to raise awareness about the civil war in the Democratic Republic of Congo. People have stepped up to address a broad array of global challenges, when government and traditional institutions have failed.
---