Matt Damon shows how celebrity charity work should be done
(Read article summary)
Innovative Water.org is the result of patient homework and uncovering what really works.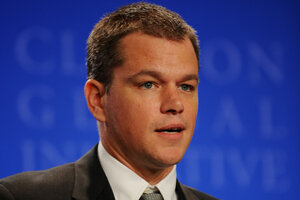 AFP Photo/Stan Honda/File
Celebrities hardly have an unblemished record when they attempt to trade on their fame to benefit good causes.
A current case in point: singer Lady Gaga, is now touring in Japan. She asked her fans to contribute $5 toward Japanese earthquake and tsunami relief efforts and receive a wristband in return. Now she's being sued, with the plaintiff's saying she's profited from a shipping charge for the wristbands. A spokesperson has denied any wrongdoing and says the entire amount paid for the wristbands "is going directly to relief efforts" and that "nothing is being made on shipping costs."
As au courant as Lady Gaga the musician may be, she's still using an old Hollywood tactic of asking fans for donations based on her fame and not her deep knowledge of the problem.
The current issue of Fast Company magazine highlights the work of Matt Damon, who might be called the thinking person's celebrity do-gooder (Matt Damon and his global war for water: the intimate tale of an actor done good).
His nonprofit water.org project is using some innovative techniques to attack a stubborn, pervasive, and utterly unglamorous problem in the developing world: lack of clean water and sanitation. According to UNICEF, about 1 in 8 people in the world lack access to safe water supplies. More than 3.5 million people die each year from water-related diseases, according to the World Health Organization.
---