Another role for the Obamas: social entrepreneurs
(Read article summary)
Barack backs StartupAmerica, which reduce barriers to smale-scale business innovation. Michelle's ChooseMyPlate promotes healthier eating habits.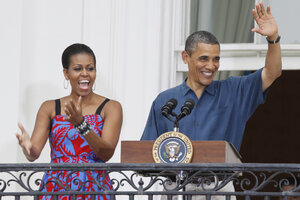 AP Photo/Charles Dharapak
It's easy to be critical of government: It seems that our leaders never do enough to fix all the problems we face, whether they are economic, social, international, or domestic. Often social change comes from the ground up, not the other way around.
But the Obamas have developed two programs that address, respectively, the economic recession and health problems related to malnutrition and obesity. They are worth taking a look at in detail and, though criticism remains relevant, the programs bear innovative and promising aspects.
StartupAmerica is President Obama's initiative, founded in January 2011, to catalyze small-scale entrepreneurship through facilitating access to capital, creating mentorships, and reducing barriers to innovation. The program aims to achieve these goals through partnerships with companies like Google, which has pledged $100 million to startup companies for use of their advertising services, as well as Cisco, which is providing training for 6,000 entrepreneurs, and IndieGoGo, the crowdfunding website, which is offering startup entrepreneurs the opportunity to raise up to $30 million on the site at a 50 percent reduced fee rate.
In focusing on entrepreneurship and innovation, the Startup America initiative looks to create sustainable job growth, which stands as a potential long-term solution to national economic woes in the US.
---