Borneo project restores orangutan habitat and generates income for locals
(Read article summary)
The Borneo Orangutan Survival project in Indonesia could be a blueprint for saving habitat, cutting greenhouse gases.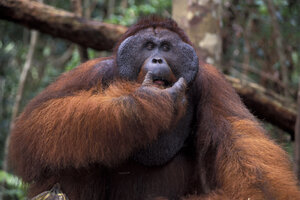 Theo Allofs/DanitaDelimont.com "Danita Delimont Photography"/Newscom/File
Since 2002, on a 2,000 hectare (7.7 square mile) plot of deforested land in the Indonesian state of East Kalimantan on the island of Borneo, an organization called Borneo Orangutan Survival (BOS) has been regenerating forest to create habitat for orangutans. By combining agriculture and forestry, the Samboja Lestari project has planted more than a million trees – including 1,000 different species.
The reforestation effort has not only established a safe haven for orangutans, it has improved food security and incomes of the local community, stabilized the local micro-climate, increased the availability of water, and begun to established a sustainable agroforestry system managed by local people.
Borneo is the third-largest island in the world and historically has been covered with rainforest. Borneo's forest is around 130 million years old, making it the world's oldest rainforest.
But the island has lost an estimated 50 percent of its forest cover since the 1970s due to logging, slash and burn agriculture, and the establishment of large-scale oil palm plantations to produce biofuels.
---