John Kufuor helps transform Ghana into a model for African agriculture
(Read article summary)
Former President John Kufuor cut the number of hungry people in half through by using innovative ways to help farmers.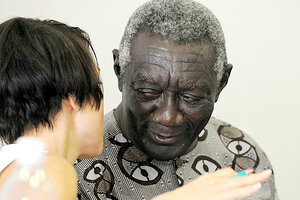 ISSOUF SANOGO/AFP/Getty Images/Newscom/File
In a report by the International Food Policy Research Institute, former President of Ghana John Kufuor describes the incredible transformation his country underwent during the first decade of the new millennium. Under Kufuor's presidency, the number of hungry people in Ghana was cut in half. The poverty rate, which had been at 51.7 percent in 1991, had shrunk to 26.5 percent in 2008.
Ghana's transformation over the past decade has made it one of the more politically stable countries in Africa, and, as President Kufuor writes, Ghana has "made some of the greatest progress in reducing hunger, poverty, and malnutrition."
Kufuor, a recently announced recipient of the 2011 World Food Prize, served as Ghana's democratically elected president from 2001-2009. In the opening of the report, titled "Ghana's Transformation," he writes, "When I became Ghana's President in 2000, my country needed solutions for hunger, malnutrition, and a host of other problems."
Kufuor found agriculture to be a catalyst for these solutions. Agriculture is critical to Ghana's economy, as some 60 percent of the country's population depends directly on rural agriculture. Kufuor's administration worked to harness an agriculture transformation to strengthen the nation's economy.
---