Peace Corps teachers return to Sierra Leone
(Read article summary)
After a 16-year absence Peace Corps teachers like Arteeca Eccles are again helping children learn math, science, and English to in a country where only 35 percent of adults can read and write.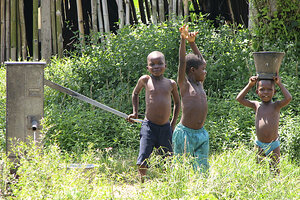 Robert Peelen Glimpse/Newscom/File
Arteeca Eccles isn't your typical 20-something American. The North Carolina native cooks her breakfast over an open fire, checks her email about once every two months, and has to take care not to trip over the chickens running around her front yard.
It's all part of a normal day for Ms. Eccles, who teaches high school biology as a Peace Corps volunteer here in the small West African nation of Sierra Leone. Eccles arrived just over a year ago as part of the first batch of Peace Corps volunteers to come to the country since the end of its decade-long civil war.
So far, she says, the teaching is going well – and she's learned to cook a mean groundnut stew.
Fifteen years ago, Eccles's quiet little corner of southeastern Sierra Leone was at the heart of rebel territory. Villages were burned, women were raped, and men were mutilated as the Revolutionary United Front – a ragtag group of diamond-funded rebels – ravaged the countryside in a vain attempt to take over the country.
Things got so bad that in 1994 the Peace Corps, which had been operating in Sierra Leone for more than 30 years, shuttered its offices and pulled out all of its volunteers. The situation had simply grown too dangerous.
Today, that violence is a distant memory. Sierra Leone has been at peace for nearly a decade. But the scars of the conflict run deep and the country still has a long way to go to get back on its feet.
---