Laura Moulton brings books to the homeless – by bike
(Read article summary)
Her Street Books project finds avid readers among the homeless of Portland, Oregon.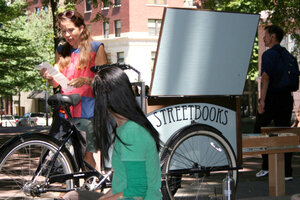 Courtesy of Ben Parzybok
Every Wednesday and Saturday, Portland, Ore., residents can spot Laura Moulton fiercely peddling her bike as she tows along a wagon full of books. When she arrives at her destination, Ms. Moulton parks, opens her wagon, and sets up for her four-hour shift.
"There is at least one guy waiting every Wednesday morning to greet me, get his book, and head out," she says.
Ms. Moulton is Portland's mobile librarian. Since early June Moulton has been bringing books to the public with her library-on-wheels Street Books, an outdoor library for people who live outside.
"The power of the book," she says, "offer[s] a way to transport oneself out of a current reality." Books are also "a tool to help pass time, which a lot of people living outside have a lot of."
Moulton, a novelist and mother of two young children, bikes her library to Skidmore Fountain and Park Blocks – near Portland State University – on Wednesdays and Saturdays respectively. She brings about 40 or 50 books with her for each shift. But she says her basement is full of paperbacks that have been donated to her since the project began.
Each book holds an "old school" pocket on the inside cover with a loan card inside. Street Books patrons receive a library card that they can use to check out as many books they desire at a time.
---