Abaarso Tech, run like a business, brings top-notch education to Somalia
(Read article summary)
Jonathan Starr founded Abaarso Tech in Somaliland to unlock the potential of the country's brightest boys and girls.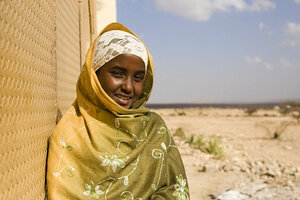 Patrick Adams
[This is part of a Dowser.org series highlighting innovations and possibilities for action for the famine in Somalia. Most news frames the famine and political conflict as nearly unsolvable; we're examining the on-the-ground measures that can help – from the large scale and political to the local and preventative.]
At the start of every semester, Mohamed Abdirahman fills the back of his rattletrap station wagon with fresh fruit and vegetables and hauls it all to a tightly secured compound on the outskirts of the aptly named village of Abaarso (Somali for "drought") where his teenage son goes to school.
"Just about everyone finds a way to pay something," says Jonathan Starr, who several years ago quit a career in finance and used the millions he made on Wall Street to conduct an experiment in education on the parched, windy plains of western Somaliland, a mostly stable, autonomous region of Somalia.
Mr. Starr, 35, wanted to find out what happens when you immerse Somaliland's brightest boys and girls in a "culture of English" with plenty of books and computers and a staff of dedicated teachers from some of the best schools on the planet. Abaarso Tech, the nonprofit organization he cofounded in 2008, is designed to do just that.
---