Backpack Farms helps small African farmers defeat drought
(Read article summary)
Backpack Farms supports African farmers with low-cost products and training suited to their needs.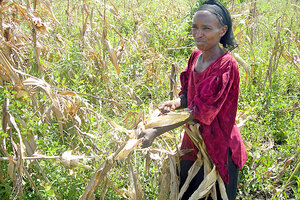 AFP Photo/Aaron Mascho/File
This is part of a series highlighting innovations and possibilities for action for the famine in Somalia. Most news frames the famine and political conflict as nearly unsolvable; we're examining the on-the-ground measures that can help – from the large scale and political to the local and preventative.
Looking at graphic photos of starving Somalis or reading about the perils of drought in East Africa, one might conclude that there is not enough food grown there, or not enough capacity to produce food. But many who work on the ground in sub-Saharan Africa would argue that the problem of food security in that region is historically tied to poorly planned colonial agricultural systems, as well as misdirected aid programs in the 1980s and 1990s.
One social entrepreneur, Rachel Zedeck, built on years of experience in international development work to create a program that addresses agricultural underdevelopment at the bottom of the pyramid. Her organization, Backpack Farm, supports farmers' growth through innovative products and low-cost trainings that foster entrepreneurship and educate farmers about sustainable production techniques.
---