Used soda bottles light up the world – for free
(Read article summary)
Refracted sunlight from soda bottles acts as a 'light bulb' in dimly lit homes in the developing world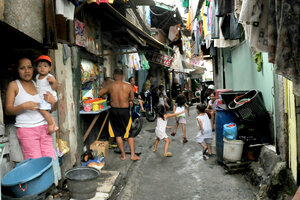 AFP Photo/Jay Directo/Getty Images/Newscom
Water, a little bleach, and a plastic bottle are all Filipino entrepreneur Illac Diaz needs to light up the world. He's out to make lighting free and safe, one slum at a time.
Until now, nearly three million people in the Philippines have gone without electricity, according to philstar.com. Those with access often use unsafe or illegal technology, creating disastrous effects. For example, 2,520 electricity-related fires were reported in 2009. In the Philippines, through the My Shelter Foundation, Diaz is implementing Solar Bottle Bulbs to diminish these problems.
A used plastic bottle filled with water and a touch of bleach is placed in a hole of a tin roof. For up to five years, 50 watts of light fill up a once-gloomy windowless shack any time the sun is out, Mr. Diaz told Reuters.
Although WattWatt.com reports that the idea originally started with mechanic Alfredo Moser of Brazil, who used the creation locally, Diaz is attempting to spread it worldwide. Using a student design created at the Massachusetts Institute of Technology, Diaz has brought the appropriate technology farther with his two-hour seminar about the simple product.
---