Solar firm taps social-media expert to spur a 'rooftop revolution'
(Read article summary)
Patrick Crane was impressed by his solar roof. Now the former LinkedIn executive expects solar power to become a 'social phenomenon.'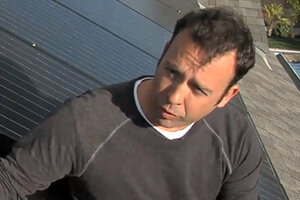 Courtesy of SolveClimate News
Social media expert Patrick Crane had just stepped down for a "career break" after four years with networking giant LinkedIn when Sungevity came knocking late last year with a job offer.
Still far from decided but intrigued, Mr. Crane agreed to sign up with the Oakland, Calif.-based solar leasing firm – but just as a customer.
He filled out a free online Sungevity iQuote, punching in his roof specifics, electricity usage, and other household details. In less than 24 hours, the company calculated the roof's pitch and orientation to the sun and emailed Crane a design of his solar array without ever stepping foot in his San Francisco Bay Area home.
The quote tallied how much money the panels would save on electricity bills. And it stated that, at no cost to Crane, he could lease an installation from Sungevity, skipping out on tens of thousands of dollars in upfront costs.
Looking over the proposal led to an "aha" moment for Crane.
Going solar seemed like a transformative choice, he told SolveClimate News in an interview, and he wanted to talk about it far and wide. For a social networking guy, that was huge.
"I felt in my bones that solar is a social phenomenon," Crane said. "What I saw very quickly through my own experience was that families are making a very big emotional decision.
---