John Danner shoots for the stars with Rocketship charter schools
(Read article summary)
Rocketship schools employ computers and coaches to help teach low-income kids, and see student performance rise dramatically.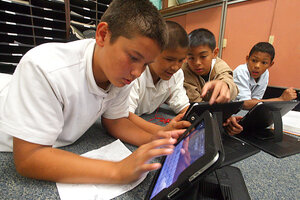 ZUMA Press/Newscom
Fifteen years ago, John Danner started the internet company that eventually made him rich. At 31, he retired. But a nagging question kicked in: "Now what?"
With a nudge from the Jesuits, whose schools he'd attended as a child, and after earning his stripes as a classroom teacher, Mr. Danner co-founded the charter school network Rocketship. Rocketship has 2,500 students in five elementary schools in San Jose, Calif. Roughly 90 percent of Rocketship's students are from low-income households, and 70 percent or more don't speak English at home.
And they're outperforming everyone's expectations.
In the interview below, which has been condensed and edited, Danner shares some of his team's best ideas.
Charter schools aren't the oddity they once were in American education, but Rocketship has been lauded for its unusual approach to education. What's your innovation?
Danner: The key idea with Rocketship is that there is a place for classroom instruction and for individualized instruction exactly at the developmental level of a child. We created a school model that incorporates both – we have six hours of classroom time and two hours of Learning Lab time, which is where we do our individualized instruction, with tutoring and computers.
Learning Lab is not staffed by teachers; it's staffed by instructional coaches, who generally have high school or college degrees but are not certified teachers. Theywork at an hourly wage, of around $14 an hour, as opposed to much more highly paid teachers. We hand them a scripted curriculum; they oversee the work children are doing on computers, and they're perfectly capable of providing instruction as long as we know exactly what each child needs to learn.
---
Follow Stories Like This
Get the Monitor stories you care about delivered to your inbox.