Visiting the greenest gas station in the United States
(Read article summary)
SeQuential travels to local businesses in Oregon and Washington to buy waste cooking oil that it converts into biodiesel for cars and trucks – and sells at its stations.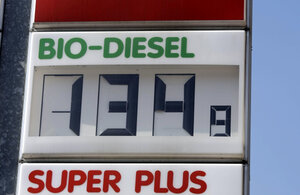 a11/ZUMA Press/Newscom/File
Every Thursday, thanks to a content partnership with brother-sister duo Journey of Action, Dowser.org is exploring Gen Y changemakers – and how they fit in with the rest of the world.
Picture five million barrels of oil.
That's how much was dumped into the Gulf of Mexico in spring 2010, in the largest oil spill in history.
Environmental devastation is only one reason why many social change activists are protesting what they see as America's dependency on fossil fuels.
In the developing world, oil is often a catalyst for political corruption. In Nigeria, for example, a profitable but foreign-owned oil industry has been linked to rising socioeconomic inequality and widespread government corruption, while providing few, if any, local benefits.
And as anyone who's filled up a tank recently will know, a more immediate problem is that petroleum is simply expensive. And prices don't seem to be going down. When an oil market as tiny as Libya's opens up, there's a scramble to control the goods – because oil is a scarce commodity, and much of the world runs on it.
---