Bicycle Coffee Co. pedals fair-trade coffee
(Read article summary)
It delivers by bike and keeps overhead low so it can sell 'ethical' coffee at a competitive price.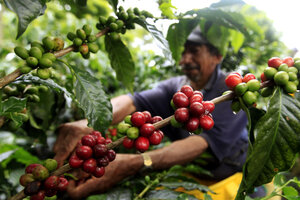 JOSE MIGUEL GOMEZ/Reuters
Every Thursday, thanks to a content partnership with brother-sister duo Journey of Action, Dowser.org explores Gen Y changemakers – and how they fit in with the rest of the world.
In 2010, the United States imported 24 million 60-kilogram (132-lb.) bags of coffee. It's the second-largest importer in the world, after the European Union.
And here is where that coffee came from. The top five, in order, are Brazil, Vietnam, Colombia, Indonesia and Guatemala – all regions that share, aside from similar weather patterns, developing economies. Coffee is the second-most valuable commodity exported from developing countries, after oil.
However, the majority of coffee that you see on supermarket shelves is sold at a steep markup that increases the profits of the company selling it to you, without helping the farmer who grew the beans and harvested them under the hot sun.
By now, most people have heard of "fair trade." But the real-life, on-the-ground effects of the model are often overlooked. So here's a quick breakdown of what fair trade really means:
---
Follow Stories Like This
Get the Monitor stories you care about delivered to your inbox.