After 9/11: A rabbi, pastor, and imam join hands to oppose extremism
(Read article summary)
Brought together by 9/11, three friends – a rabbi, a pastor, and an imam – work together to find and appreciate the spiritual resources present in all of their faith traditions.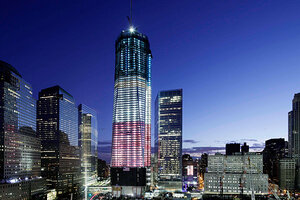 Mark Lennihan/AP
[Rabbi Ted Falcon, Pastor Don Mackenzie, and Imam Jamal Rahman, known collectively as the "Interfaith Amigos," have been learning and teaching together since 2001. They blog for YES! Magazine. ]
Most of us remember all too clearly exactly what we were doing on the morning of September 11, 2001. We remember because those hours changed us forever.
Along with the shock, the pain, the fear, and the grief, we remember an incredible outpouring of compassion. In our city of Seattle, as in so many other cities, people gathered spontaneously, creating monuments of flowers and cards. Each day, people came together to share and to comfort each other. And we remember the unprecedented international demonstrations of support, as sister monuments took shape in cities the world over. It appeared something deeply hopeful was being born.
But then we went to war, and bombs in Afghanistan silenced the voices urging dialogue to better understand what led to the attacks on us. In America, we found ourselves incredibly ignorant of the Muslim faith, but many of us suspected that the terrorists were not speaking the authentic teachings of Islam.
---
Follow Stories Like This
Get the Monitor stories you care about delivered to your inbox.