Powering Potential puts technology in schools in Tanzania while respecting local cultures
(Read article summary)
Janice Lathen brought more than computers to a remote part of Tanzania. She brought a window on the world.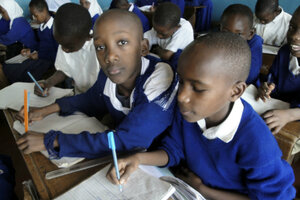 AP Photo/Maria Almond/File
Her students call Janice Lathen "Mama." In many ways, she has nurtured them like a mother. She has also endeared herself to the broader local community after she brought the first computer to a local school in a remote district of Tanzania, in East Africa, in 2007.
Ms. Lathen's admirers call her not only caring, but also a savvy businesswoman.
She is an American entrepreneur with 23 years' experience managing her own computer-consulting company in New York City, where she still lives. But today she spends a lot of her time in Tanzania, where she is the founding executive director of Powering Potential, a nonprofit group that uses technology to enhance education in Tanzania while also respecting local cultures.
She has made several trips to Tanzania. Sometimes she stays as long as six weeks. She has set up a computer technology project at the Banjika Secondary school in Karatu, Tanzania.
"One day while on a safari tour in Tanzania, I became inspired by the students of Banjika, who were overwhelmed and happy when I introduced myself in Swahili," she says. "I felt compelled to do something unique for the students after that visit to the school. So I started this project."
The computer project is is energy-efficient and designed to last a long time.
"We use computers and monitors designed to consume small amounts of electricity, a precious resource in Tanzania," Lathen says. "Our computers use 5 watts, and the monitors use 12 watts. A typical desktop computer-monitor uses 70 to 80 watts, so that is a huge electricity savings."
Her organization has also installed a solar-energy system to power the computer lab and generate DC current for the computers and monitors.
"These computers and monitors are also specifically designed to withstand harsh climates – dust, heat, wind, and humidity – typical in Tanzania," she says.
---