Patrons rally behind resilient public libraries
(Read article summary)
Even as libraries are facing steep cuts, Americans are using them more than ever – in more ways than ever.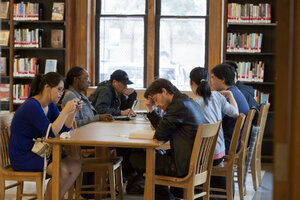 RICHARD B. LEVINE/Newscom
"People who talk about libraries dying out are the ones who remember the libraries of their childhood," says American Library Association (ALA) President, Molly Raphael, from her home in Portland, Ore. "But the library of today is not the library of our childhood, and the library that children see today is not the library we'll see in 20 years."
Raphael is giving me an insider's perspective of the current state of libraries, which are actually thriving. They are evolving and innovating despite significant economic challenges and budget cuts, and people are utilizing libraries at steady or increasing rates.
The State of America's Libraries Report for 2011 notes that library visitation per capita and circulation per capita have both increased in the past 10 years. Raphael explains that libraries have a long history of embracing new mediums for sharing information. From records and video tapes to the Internet, Blu-ray, e-books, and file downloads, libraries have always adapted to meet the changing needs of their patrons.
"In general, libraries embraced the Internet right away," says Raphael. "And not just to provide computers for patrons. They recognized that it became a new tool for librarians."
Libraries play a crucial role in bridging the gap between those with access to computers and the Internet, and those without.
When Raphael started working in libraries, reference librarians got a lot of one-word-answer questions such as, "How do you spell this word?" or "Should I use the singular or plural here?" These days, librarians need to not only be tech-savvy, but also play the role of teacher, research guide, electronic-information navigator, and employment counselor.
---