George Mukhobe is Mr. Baseball to kids in East Africa
(Read article summary)
George Mukhobe coaches Uganda's Little League baseball, which has grown to nearly 1,500 boys and girls across this East African country. Is playing in the Little League World Series next?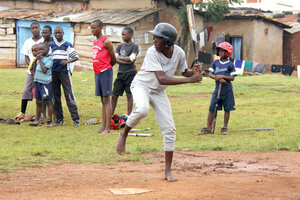 Courtesy of Paige McClanahan
It's a warm, gray Saturday morning in Kampala, Uganda, and the scrubby field behind St. Peter's Secondary School sits empty.
But not for long. At just past 9 a.m., kids start trickling in – first a few, then a dozen or so more. Some wear shoes; many are barefoot. They're mostly boys, but a couple of girls show up too. A few are lugging weathered bags of balls, bats, gloves, and helmets that they've just picked up from their coach's house.
The kids have come here this morning to play baseball, an exotic imported game that was practically unknown in this East African country 20 years ago.
You wouldn't guess it by looking at their practice field – a rough patchwork of dirt and grass that sits next to a row of wooden shacks – but these kids are good. They're part of the best Little League baseball team in Africa.
"Some [of the kids] are from around the rural areas, but most are from around the city, the ghettos," says George Mukhobe, the coordinator and head coach of Uganda's Little League. "Some are orphans, some were affected by the war. They come because they don't have any other things to do."
There are no sports equipment stores in Kampala, so all of the players' equipment is donated, much of it by visiting Americans and Japanese. Mr. Mukhobe estimates that they have about one glove for every two kids, and roughly 10 active coaches around the country. Here in Kampala, they play five or six days a week. Mukhobe is there for every practice.
---