Bamboo bicycle business shoots up in a struggling African country
(Read article summary)
Based in Zambia, Zambikes employs and empowers Africans to manufacture bicycles locally, including some made from bamboo.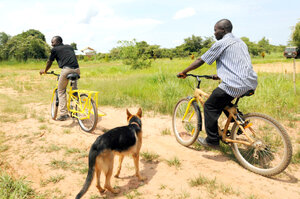 NEGROTTO VIVIANE/SIPA/Newscom/File
Zambikes has been helping Africans get around on locally made bikes since 2007.
Now they want to get the rest of the world rolling, too, but with a twist: These new cycles are almost 100 percent bamboo.
Zambia, where Zambikes is based, ranks a staggeringly low 150 out of 169 on the UNDP's Human Development Index. Vaughn Spethmann and Dustin McBride witnessed the country's dire economic straits and high unemployment rate first-hand during a 2004 university trip and founded Zambikes upon their return to the United States, according to The American.
Believing business to be the best way to remedy the country's woes, they wanted their new company to "employ and empower the uneducated and underprivileged," Mr. Spethmann told Social Capital Markets Europe.
Spethmann says that as of May 2011, "Zambikes has distributed more than 8,000 bicycles, 900 bicycle ambulances and cargo carts, supplied much-needed spare parts, sold upwards of 200 bamboo bicycle frames worldwide, and have employed more than 100 Zambians."
Zambians who use the cargo cart can increase daily earning from $2 a day to $20, he said.
---