To fight hunger, donate 'Just One Can'
(Read article summary)
Tony Marren founded Operation Just One Can to make it easy for Americans to get involved in solving the problem of hunger in the United States.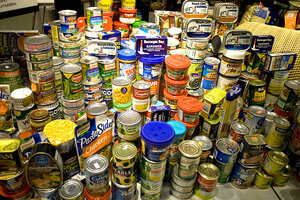 RICHARD B. LEVINE/Newscom/File
One night in college, Tony Marren had grabbed a quick meal after leaving a home football game at Brigham Young University in Utah. As he walked with his food, he suddenly came upon adults dumpster-diving with their children nearby.
"I was standing there with my politically correct Diet Coke and my onion rings and my big Whopper," Marren remembers. "I was stunned."
He had heard statistics about hunger before then, he says, but that night made the numbers hit home.
Today Mr. Marren, who lives in Provo, Utah, is the founder of Operation Just One Can, a movement that encourages businesses, places of worship, and schools to start food drives in which people donate a single can of food – any brand, any kind of food, any size.
Marren says he thinks being asked to donate a single can makes people more likely to give.
"If you make it a workable, realistic item, you get people to listen," he says.
Marren already had experience with food drives and charitable donations after organizing his first canned food drive his junior year in college, which yielded 3,000 cans. In 2006, he organized an effort to send soccer balls and blankets to orphans in Kabul, Afghanistan.
He had e-mailed a friend in the military promising soccer balls and blankets for 1,000 children, which Marren said he initially found to be an intimidating goal.
"I sent it and said, 'Whoa, what did I get myself into?'" he recalls. He ended up with 3,500 soccer balls and 3,500 blankets.
The idea for Operation Just One Can came to Marren when he was driving by a Brigham Young University football game one night in January 2009. Marren suddenly thought of the amount of food that could be collected if every person attending the game to brought a single can of food.
---