Cheap drip irrigation could transform small farms
(Read article summary)
Peter Frykman founded Driptech to provide low-cost drip-irrigation systems to small farmers, hiking their crop yields by 20 to 90 percent.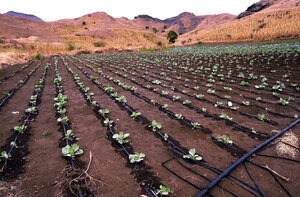 SY DJIBRIL/Panapress/MAXPPP/Newscom/File
Six hundred million subsistence farmers lack irrigation water, leaving them locked in poverty. A full third of the world's population suffers from water scarcity. Without access to affordable water-efficient irrigation, small-plot farmers are unable to grow crops during much of the year. And without marketable produce, already meager incomes decline, and farmers can become unable to even meet the nutritional needs of their own families.
In the spring of 2008, Peter Frykman visited farmers in Ethiopia as part of a course during his PhD studies in mechanical engineering at Stanford University. Frykman arrived in the middle of the worst drought Ethiopia had experienced in 20 years.
The drip-irrigation products that were locally available were too expensive for most farmers and seldom worked properly. Frykman returned to Stanford and invented a new manufacturing technology that makes clean, consistent holes in super-low-cost plastic tubing.
After successfully validating the system with farmers in India, Frykman left his PhD program in 2009 to focus on growing Driptech – a privately held, for-profit social enterprise that designs and manufactures low-cost drip-irrigation systems for small-plot farmers in the developing world.
During 2009, Driptech sold 200 units to municipal government officials in Lingqiu, China, for local farmers. Driptech has also raised seed funding from two European social investment funds, including LGT Venture Philanthropy, and a variety of successful entrepreneurs.
---