Pork without a pig? Meat from a lab could be the answer.
(Read article summary)
Scientists are experimenting with growing meat directly from stem cells. Cost and quality questions remain, but 'artificial' meat could end animal slaughter and be easier on the environment.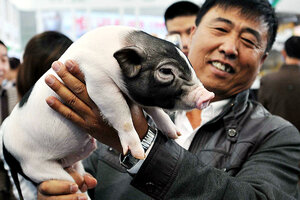 Wang Chunyu/ZUMA Press/Newscom
The most expensive piece of meat in the world – costing about "US $12,000 per kilo" (2.2 pounds) – does not come from a ranch but a laboratory. The meat is grown in vitro, without killing a living animal.
The material required for in vitro meat is gathered by "a relatively harmless muscle biopsy from a pig, cow, sheep, chicken," says Nicola Jones, author of a recent article on in vitro meat. From this extracted muscle tissue, researchers separate myosatellite cells, which are adult stem cells used to grow and repair the animal's muscles after exercise or injury.
Stem cells are important to this process because they can self-divide and multiply their numbers to create a mass of cells where there once was only one. These myosatellite cells are incubated in a petri dish with a substance designed to cause cell division and provide nutrients for muscle growth.
Yet the practice has not quite caught up to the theory. There are a number of hurdles that scientists must overcome before large-scale growth can occur.
"The myosatellite cells will divide only a limited number of times," according to Jones, making it difficult to produce high volumes of meat.
Mark Post, a physiology professor at Eindhoven University of Technology in the Netherlands, for example, has been unable to produce enough meat to make a single sausage, which will "require another year of research and at least $250,000".
---