In India, SELCO blazes an entrepreneurial trail to bring solar power to the people
(Read article summary)
Harish Hande wants to make solar power available to all Indians – even the poorest street vendors.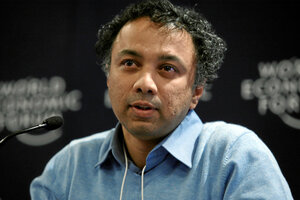 ZUMA Press/Newscom/File
Harish Hande is democratizing electricity. In India, nearly half of all households lack power. Mr. Hande has made it his life's work to change that, and he's doing it with affordable, sustainable technology.
Hande is the managing director of SELCO, a social enterprise in Bangalore, India, that develops sustainable technology to improve the lives of India's underprivileged masses. In the past 10 years, Hande says, SELCO has increased Indian fuel efficiency, enhanced the financial power of India's rural banks, and improved the lives of hundreds of thousands of low-income Indians.
In a September talk at MercyCorps in Portland, Ore., sponsored by the Lemelson Foundation, Hande told SELCO's story to an enthusiastic audience. It was a glimpse into the potential of sustainable technology and the difficulties of motivating charitable service in a profit-oriented culture.
SELCO works to customize products for underprivileged consumers, using sustainable values to cut costs and improve lives. In India, "sustainability is not getting subsidized," Hande explained. "Sustainability is subsidizing other industries."
SELCO "subsidizes" the work of India's poor, he said, by providing sustainable technology that boosts productivity and income for poor workers.
For example: Most street vendors in India use kerosene lights, which leave a substantial carbon footprint. Perhaps more importantly, kerosene costs about 15 rupees (30 cents) per day. So SELCO offers these street vendors solar lighting for about 10 rupees a day: a 33 percent personal savings. Those savings can make all the difference for many of SELCO's clients.
---