Tim Peters provides Helping Hands to North Korean defectors
(Read article summary)
Christian missionary Tim Peters sends aid to impoverished North Korea while working to help defectors come to the South.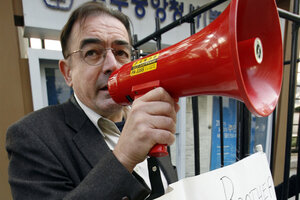 REUTERS/Jo Yong hak/File
Almost every day, Tim Peters faces the same quandary: Should he highlight the life-and-death struggle of North Korean defectors, or fly under the radar as he bids to help them escape along the precarious "underground railway."
In the end, the American pastor invariably manages to unite the two apparently opposing strategies.
It is a recurring dilemma that was captured in real-time by a South Korean television camera crew last year while they were working on a documentary. Set up at an airport in Vietnam, the team filmed an unwitting Reverend Peters as he was shepherding a group of North Koreans to the penultimate stop on their journey along the railway – a byword for escape routes through China to countries that permit safe passage out – before arriving at the promised land of South Korea.
"I had no idea they were going to be there," he recalled last summer, describing the deep reservations he harbored of being included in the finished film so as not to arouse the suspicions of China, North Korea's closest ally and a country that treats undocumented North Koreans as economic migrants, not refugees. "Fortunately, I am not shown in China but in Vietnam. Hopefully, China won't take too much notice."
It is perhaps this sort of dedication that appeals to the eclectic group of activists and other interested parties who gather for weekly meetings in the South Korean capital under the umbrella of Peters' organization, Helping Hands Korea, based in Seoul, the South's capital.
---