Could a 'Good Samaritan' law help China become more compassionate?
(Read article summary)
'Good Samaritan' laws around the US and elsewhere shelter those giving aid in emergencies from prosecution and encourage good deeds.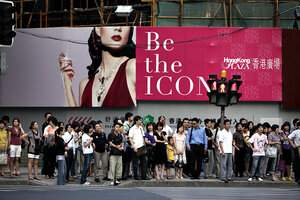 Nir Elias/Reuters/File
The Good Samaritan of Biblical lore was different than you and me: He was able to help without the fear of being sued.
Disturbing footage of an unattended Chinese girl being run over twice and ignored by 18 witnesses has shed unflattering light on China's civil society. Two-year-old Xiao Yueyue (which translates as Little Joy in Chinese), daughter of two migrant worker parents, died on Oct. 21 in a Guangdong hospital, eight days after the horrific incident.
Disapproving fingers are being pointed in various directions: from the disintegration of society's morality to the government's neglect of protecting civil liberties. Yueyue's unexpected death has revived a fierce international debate over Good Samaritan laws.
If you missed the final "Seinfeld" episode, Good Samaritan laws protect people who assist victims of injury or crime. "They are intended to reduce bystanders' hesitation to assist, for fear of being sued or prosecuted for unintentional injury or wrongful death," as Wikipedia puts it.
Prior to the broadcasting of Yueyue's tragedy, several sensational lawsuits had embittered the public toward performing heroic deeds for strangers. Specifically, in 2007 an elderly woman sued a young man by the name of Peng Yu for escorting her to the hospital after she had fallen and broken her leg. Mr. Peng was ordered to pay the damages to the elder woman under the judge's logic that the man wouldn't have helped her unless he was guilty of injuring her in the first place. Some litigators suggest that lawsuits of this nature create legal disparity between the affluent and the less privileged. Perhaps had the woman not belonged to the poorer class, in need of money, no such lawsuit would have been filed.
---