Lessons from America's surprising No. 1 bike town
(Read article summary)
How did snowy Minneapolis beat out Portland, Ore., for the title of best bike city in America? This year, Minneapolis is adding 57 new miles of bikeways to the 127 miles already built, and an additional 183 miles are planned over the next 20 years.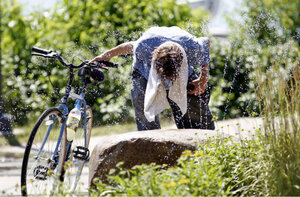 Eric Miller/Reuters/File
It came as a surprise to many when Bicycling magazine last year named Minneapolis, Minnesota as America's "#1 Bike City," (unseating Portland, Oregon, which had claimed the honor for many years). Shock that the heartland could outperform cities on the coasts was matched by widespread disbelief that biking was even possible in a state famous for its ferocious winters.
But Minneapolitans weren't surprised.
"Biking has become a huge part of what we are," Mayor R.T. Rybak recently told a delegation of transportation leaders from other cities who had come to learn from Minneapolis' example. According to census data, close to four percent of Minneapolis residents bike to work (that's far fewer than in, say, Japan, where some 15 percent bike to work, but well above the U.S. national average, which is barely over half a percent). In Minneapolis, the percentage of bike commuters has increased by 33 percent since 2007, and 500 percent since 1980.
A biking transformation
Thirty years ago, local bicyclists would have howled with laughter at the idea of Minneapolis being named America's best bike city. It was a frustrating and dangerous place to bike, crisscrossed by freeways and arterial streets that felt like freeways. Drivers were openly hostile to bike riders, some of them going the extra step to scare the daylights out of us as they roared past. Bike lanes were practically non-existent.
But Minneapolis also had the makings of a great bike town – in part, as Dorian Grilley of the Bicycle Alliance of Minnesota noted, due to a "150-year tradition of civic involvement" that preserved the land bikers use today. In the late 19th century, city fathers wisely preserved land along lakes, creeks, and the Mississippi River for public use. These became popular places to bike in the 1890s and again, eighty years later, when the second bike boom hit town.
---