Mercy ship brings basic hospital care to West Africa
(Read article summary)
The Africa Mercy, a charity-funded hospital ship docked in Sierra Leone, provides the most sophisticated medical facility in the region.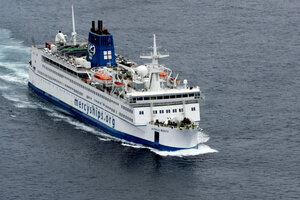 Courtesy of Mercy Ships
Massachusetts General Hospital, the largest hospital in New England, has 10 CT scanners, the high-tech imaging devices that are used to detect everything from bone fractures to tumors to strokes.
Sierra Leone, a West African nation with a population of nearly 6 million, has only one CT scanner, and it's currently afloat in the Atlantic Ocean.
But it's being put to excellent use.
RELATED: Think you know Africa? Take our geography quiz.
That's because the scanner is in the able hands of the crew of the Africa Mercy, an eight-deck ship that's been docked in Freetown's ramshackle harbor since February. The ship, a floating hospital staffed by Western doctors and nurses, is offering free surgeries to Sierra Leoneans, who desperately need its services.
"They're just crying out for the most basic care," says Dr. Gary Parker, the chief medical officer aboard the Africa Mercy, which is owned by a Texas-based NGO called Mercy Ships. "Health care is either physically not available or it's financially unaffordable," he says. "That's the story, and you can repeat that story all up and down West Africa."
---