'Encore entrepreneurs': Older Americans start businesses with social impact
(Read article summary)
Not all entrepreneurs are kids in college dorms. A generation of baby boomers want to start businesses that will serve real needs.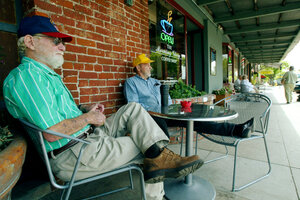 Robert Harbison/Staff/File
Our sputtering economy needs workers with more of that entrepreneurial spirit. Think tank Civic Ventures suggests they might come from an unexpected demographic: workers who are approaching middle age or their retirement years.
The group found that 1 in 4 Americans between ages 44 and 70 wants to build an enterprise – and nearly half of them want it to be a business with a strong social impact.
Might late-in-life entrepreneurs have the experience to be successful in the business and social sectors simultaneously? With help, yes, posits Civic Ventures, which focuses on baby boomers, work, and social purpose.
To support these second-stage entrepreneurs, Civic Ventures annually awards 10 individuals over the age of 60 with "Purpose Prizes" that include top grants of $100,000 for recipients to invest in their business and social organizations.
These so-called "encore entrepreneurs" are challenging the convention that the second half of life should be spent playing endless rounds of golf, jokes Randal Charlton, a 71-year-old entrepreneur and Purpose Prize recipient.
"Not all entrepreneurs are kids in college dorms, eating Ramen noodles, working through the night," Charlton says. "There's a generation of baby boomers who want to start businesses too. We have to give them tools to do so."
Until recently, Charlton was the executive director of TechTown, an incubator that supports other encore entrepreneurs in the Detroit-area, a city that he says "began decaying ahead of the rest of the country."
---