Anne Teschner brings Shakespeare, Plato, and high academic goals to teen mothers
(Read article summary)
The Care Center, in Holyoke, Mass., uses private school and even college coursework to challenge teen moms to aim higher.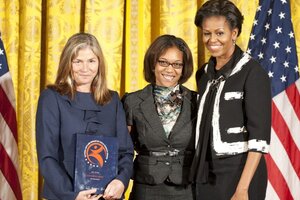 Steven Purcell/White House
There was something, Anne Teschner says, about seeing the facts in black and white.
That was the motivation behind founding The Care Center in Holyoke, Mass,. in 1986 after a state report was released about the high teen pregnancy rate in Holyoke. At that time, the rate there was five times the national average.
When The Center opened, it had 20 teen mothers as students. Ms. Teschner came on board as executive director in 1997, and The Center now takes more than 120 students each year.
The Center helps teen mothers who have dropped out of high school, but want to complete their GED, the high-school equivalency test. Class sizes are kept small, and there's a daycare center on site.
But this is no ordinary teen shelter: Currently, between 70 and 85 percent of its graduates go on to college.
Courses for college credit are also available at The Center, including The Clemente Course in the Humanities, which focuses on art history, literature, and philosophy. Bard College in Annandale-on-Hudson, N.Y., gives the credit for the course. The Center also works with Holyoke Community College and Elms College in Chicopee, Mass., to create college courses and give students credit for completion.
Expecting that teen mothers can set, and meet, high educational goals for themselves is the goal. One of the most difficult challenges the 24 staff members face, Teschner says, is getting past students' beliefs that they have somehow gone wrong in life.
"One of the ideas we had to break down is, 'you're a teen mom, you're a failure,' " she says. "They hear the message that if you're a teen mother, you've closed a lot of doors … and our take on it was, why don't we open some of those doors?"
The courses at The Care Center have subject matter that many would not expect, including classes that focus on Shakespeare and Plato. Integrating such classical authors began as an experiment, Teschner says.
---