Lily Yeh finds beauty in broken places
(Read article summary)
Her Barefoot Artists project helps heal war-torn, broken, and economically devastated communities through art.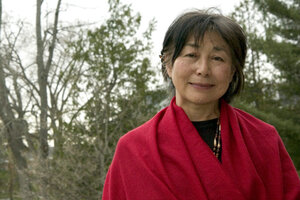 Courtesy of Fleisher Art Memorial
"I have found that the broken spaces are my living canvas," Yeh says. "In our brokenness, our hearts reach for beauty."
Lily Yeh was home in Philadelphia, between planes – back from Palestine, en route to Taiwan – and yet she was practically bubbling over. She was infused with energy because she was doing what she does best: using art to bring about healing, self-empowerment, and social change.
Yeh is the founder of – and force behind – Barefoot Artists, an organization that revitalizes neighborhoods around the globe through the transformative power of art. In Palestine, that meant working with villagers to create a wall mural that Yeh calls "The Palestinian Tree of Life." In China, it meant transforming a once imposing, prison-like school into a bright and brilliant place for learning. In Rwanda, it meant helping people heal the still-raw wounds left from that country's genocide with a memorial to the lost.
In each of the locations, Barefoot Artists collaborates with locals, joining with them to create something beautiful or soothing or enlightening. As Yeh sees it, she is igniting the light of creativity that rests in all people.
"My message is that your light is as bright as mine. It's like sunlight. There's no difference. You just need to have it lit," she says. "It's not about just me. It's about a lot of people, working together.
---